Unseen Picture
December 2014 edition

Article summary
This picture was in the Face Book and I have noticed few people pointing out some unnecessary things… So thought of sharing few thoughts on how we can heal our hearts without letting it burn meaninglessly.
This picture has taken during one of the biggest pagoda offering for the great Samma Sambuddha in the November, 2014 named "Victory Temple (Sandahiru Saya)" at Anuradhapura, Sri Lanka.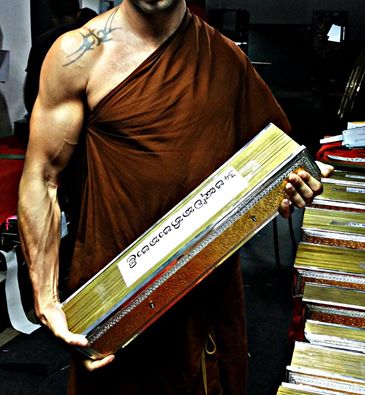 You see the tattoo, not the robe…
You see the muscles, not the heart…
You see the weight, not the intention…
You see the gold, not the exertion…
You see the attachment, not the detachment…
You see the words, not the connotation…
You see the picture, not the elements…
Tattoo in muscles shows the real weight of attachments,
Where the rob significant the heart of detachment…
There was a time which world has given the value of gold,
But now has the intention to perceive the elements of the world…
There was a time with a tattoo,
The words, only filled with worldly attachments…
But the exertion of practice now leads to awareness…
The picture misinterpreted according to the view you clinging…
Till the hidden connotation comes to crystal clearing…
You see,
It's all just the reflection of your very own defiled mind…
Which leads you to create millions of stories…
The beings, the things, exists, not exists, I, Me or Mine…
It's all just the extreme which brings the suffering…
So breaks the views by freeing the mind…
Use the weight of dhamma to see the connotation…
Make the muscles of wisdom for detachment…
Print the tattoo of truth in your heart for happiness…
Feel the value of gold by freeing from attachments…
Such a mind wear the invisible robe…
When one has intention of exertion to realize the elements…
Have no words to waste by praising the picture!!!
You may also like to read these;